Beaches, Our Playground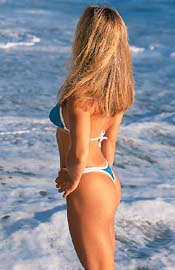 There is an undeniable connection between the ocean and the County's lifestyle. Perhaps it's because life is said to have risen up out of a salty sea or because the human body is seventy percent water. Whatever the reason, visitors and residents alike are constantly drawn to the ocean--to play, to create, to meditate, to envision--here in the County of Orange. Our 42 miles of coastline offer up spectacular views and a wide spectrum of entertainment that all translate into a certain lifestyle that you can hear in the music, see in the fashion, and taste in the food.
If you prefer to bring all your beach toys with you--boogie boards, fins, beach chairs, volleyballs--head father south to Bolsa Chica State Beach, where parking is a breeze, thanks to the 2,500 parking spaces next to the clean wide beach, or down to Huntington Beach where its professional surfing events and youthful lifestyle make its moniker as Surf City U.S.A. well earned.
The Costa Mesa Freeway spills into Newport Beach at its southern terminal, explaining one of the reasons why this stretch of coast gets particularly busy in the summer. The sand courts at the end of 42nd Street are great for casual two-person volleyball games, and the surf between 32nd and 44th Streets is popular for body surfing.
"Big Corona," in Corona del Mar, is the perfect family spot, with mild waves for young swimmers, while "Little Corona", a few blocks south, is a favorite tidepool spot. The many small, rugged coves north of Laguna Beach make for great snorkeling and scuba diving, while the grassy parkland along the city's Main Beach is the perfect spot to watch a pro volleyball match or a pick-up game of basketball. Farther south, Salt Creek Beach Park, just below the awesome Ritz-Carlton, Laguna Niguel resort, is one of the best swimming beaches in the county.
The most popular beach campground in all of California can be found at Doheny State Beach, south of the Dana Point Harbor. San Clemente and San Onofre have a greater assortment of surfing spots--for both experts and beginners--than anywhere in the world. But the best way to find your favorite County of Orange beach is to just drive along the coast until you find a spot that looks appealing to you. Then unpack the car, dip your toe in the water, and let the alchemy begin.