The Magic of Art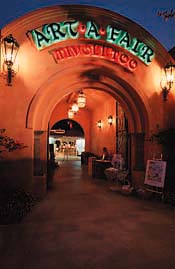 Like Jack and the Beanstalk, magic sprouted from a handful of legumes when the Orange County Performing Arts Center rose up out of a bean field in Costa Mesa in 1986. The $65 million jewel in the County's cultural crown was seeded with generous donations in both land and cash by the Segerstrom family.
In addition to being home to the Pacific Symphony Orchestra, Opera Pacific, and the Philharmonic Society, the 3,000-seat center has also hosted a number of touring Broadway production and international dance and opera troupes. Plans for a second, smaller concert hall, the Segerstrom Center for the Performing Arts, are currently under way.
Nearby is the Tony Award-winning South Coast Repertory, considered one of the finest regional theaters in the country. Spilling across South Coast Plaza are a number of outdoor art installations, like the world-famous 1.6 acre outdoor sculpture garden created by Isamu Noguchi, titled the "California Scenario," as well as major pieces of work by artists like Alexander Calder, Joan Miro, and Jean Dubuffet. Excellent theatre can also be found at the Laguna Playhouse, Alternative Repertory Theatre in Santa Ana, and the Vanguard Theatre in Fullerton.
Reflecting the County's rich and diverse cultural mix, the Irvine Barclay Theatre offers an eclectic mix of world music and contemporary dance and serves as the home to the county's largest dance company, Ballet Pacifica.
But this is only a taste of arts in the County of Orange. To see the whole menu you'd have to travel to the Bowers Museum of Cultural Art in Santa Ana, with its acclaimed art collection of indigenous peoples and fine California paintings, to the Orange County Museum of Art in Newport Center with its premiere collection of visual arts from California Impressionists to provocative contemporary art. Laguna Beach, home to the Festival of Arts & Pageant of the Masters in the summer, draws lovers of California art to the Laguna Art Museum year round, while contemporary artists can be seen practicing their art at the Artists Village, centered around the historic Santora Arts Complex in downtown Santa Ana.
And this would be only the start. You would still need to make time to visit the Newport Harbor Nautical Museum, housed in a sternwheeler on the bay in Newport Beach, and the Richard Nixon Presidential Library & Birthplace in Yorba Linda, so you can tour the farmhouse where America's 37th President was born.
For children, there's the Children's Museum of La Habra, Santa Ana's Discovery Museum of Orange County, with its restored Victorian buildings, and the County's most recent addition, the Discovery Science Center, also in Santa Ana, with over 100 hands-on exhibits. And don't forget the International Surfing Museum in Huntington Beach!