Where We Come From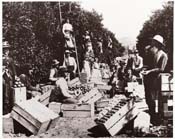 They say babies come in two styles: Winston Churchill or Mao Tse-tung. Which is to say that all babies look pretty much alike. They're wrinkled, they're chunky, and they squint. It's not until later that we become individuals, develop a sense of style. We keep a stogie in our hand at all times. We wear a homburg hat. We shave our head.
Cities are the same. The better ones--London, Paris, San Francisco--have a style all their own, a true sense of place. Some cities have personalities so large they can swallow us up. When the writer Joan Didion moved from her beloved California to New York City, she hung a map of Sacramento County on her bedroom wall to remind her on a daily basis who she was, where she came from. As if she might become one of "them" if she wasn't careful.
So what to make of the County of Orange? How deep do the roots go and who are the people who live here? Does everyone really wear Hawaiian shirts to work and are they as conservative as the media often times suggests? More importantly, why do people choose to live here?
Here's the thing: the County of Orange defies generalizations. Oh, you can try. You can get a glimpse of a south county neighborhood where hundreds of homes are so uniformly homogenous you wonder how the residents are able to distinguish their front door from their neighbor's. But then you amble around the historic French Park neighborhood of Santa Ana, with its lovely turn-of-the-century homes, or see the restored Victorian homes around Old Towne Orange and think, "Well, this can't be the County of Orange...can it?"
It can and it is.
Yes, there are miles of some of the prettiest beaches in the world and even more miles of congested freeways, but there are also dense woodlands of old oaks, ocher-colored sandstone canyons rich in fossils, and quiet country roads where farmers still sell baskets of just-picked strawberries or jars of homemade honey. There are glittering glass cathedrals and a crumbling adobe mission; the world's most famous amusement park and little known natural waterfalls; astonishing restaurants serving artichoke ragout and sidewalk carts offering spears of papaya or cups of watermelon.
The County of Orange's greatest strength is its astonishing diversity. It's what both delights and befuddles newcomers, for just when you think you have it figured out, that you know what these 782 square miles are all about, you stumble across a vision of Southern California that is nothing like what you imagined, whether it be the bustling community of Little Saigon, home to the largest concentration of Vietnamese Americans in the United States, or rustic Silverado Canyon where stagecoach service ran over a hundred years ago between there and Los Angeles.
To truly understand the County of Orange you need to know two things: It's young and it's highly impressionable. It has been shaped by men as diverse as Jose Antonio Yorba, a member of the Portola expedition of 1769, who came back to hilly chaparral land he'd traveled through and established the first rancho in the area, and C.J. Segerstrom, a dairy farmer from Sweden, whose heirs eventually developed some of the most lucrative commercial property in the world, including South Coast Plaza.
Though the old Swede and Spanish-born Yorba would seem to have little in common, they both understood that with vision and hard work, you could make this land into anything you wanted. You still can. That's what Walter Knott did when he began farming berries in Buena Park in 1927. That's what Walt Disney did in 1955 when he saw something more than orange trees in Anaheim. People have always come to the County of Orange because it is a land largely unencumbered by the past. It has always been a place to look to the future rather than to bygone days.
Two of the most important additions to the County of Orange appeared almost simultaneously, for good reason, in 1955. Five years earlier, construction had begun on a futuristic motorway, originally called the Santa Ana Parkway, that would link the center of the region directly to Los Angeles via an unobstructed river of concrete. It was the coming of the Santa Ana freeway that would eventually determine the location of an equally futuristic amusement park that would forever change the county. In 1953, Walt Disney hired the Stanford Research Institute in Palo Alto to determine the best location for a new theme park. They recommended a 160-acre orange grove in Anaheim, conveniently located next to the proposed Santa Ana Freeway. While construction of the freeway pushed south, development of the happiest place on earth went on at its own feverish pace. The freeway and the park were completed almost at the same time, and in July 1955, some 28,000 guests passed through the gates of the Magic Kingdom. Two months later, Disneyland had already welcomed its one-millionth visitor.
Growth in the County of Orange was now at a record level. Once the first freeway into the County was complete, about 50,000 new residents moved here every year for the next three decades. In 1952, there had been barely a dozen cities in the County; in the next ten years, that number would almost double. The population boom of the late '50s and '60s brought about a number of other important developments in the County, from the construction of the University of California, Irvine campus in 1965, to the dedication of a County airport in 1967.
As the County of Orange turns the corner on another century, it faces a host of challenges and new opportunities. The diversity that has always been the county's greatest strength will continue to fuel economic growth that is expanding more rapidly than almost any other community in the nation.
The day that Walt Disney cut the ribbon opening up the Magic Kingdom, he noted that the park would "never be completed as long as there is imagination left in the world."
The same could be said for the future of the County of Orange.