Getting Physical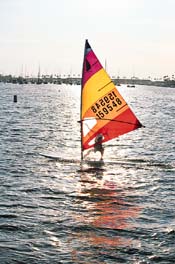 There's no historical record of James Irvine Jr. having visited New York City's Central Park, but one can't help but imagine that its stature as the most splendid urban park of its time had something to do with his decision in 1897 to donate a 160-acre oak grove to the County of Orange, thus making it the first regional park in all of California. Back then, families would travel by horseback and buckboard to picnic beneath the oaks or play a little stickball.
A visit to Irvine Park today, which recently celebrated its 100th anniversary, shows how both the park and recreational activities in the County of Orange have expanded. You can still go horseback riding and play a little baseball, but you'll also find trails for mountain bikers and hikers and a lake for fishing or boating.
Great weather and ideal recreational facilities make the county an outdoor enthusiast's dream. The Pacific Ocean fronts the County, opening up a world of water activities from deep-sea fishing out of Dana Point to kayaking along million-dollar homes in Huntington and Newport harbors. There are no less than six piers in the County, open to fishermen, diners, marine enthusiasts, and strollers.
Inland, there are hundreds of miles of hiking trails, including the new "mountains to sea" Arroyo Trabuco Trail which runs for 15 miles from the boundary of Cleveland National Forest to the ocean. All in all, the County of Orange has over 30,000 acres of spectacular parkland where you can fish, hike, bike, run, swim, camp, or experience a number of other activities. If that's not enough, you can sail to Catalina, rollerblade along the beach boardwalk, or try your hand at skimboarding, a sport that was invented in the County.
Though surfing wasn't invented here you'll probably find more advocates of the sport, both young and old, along the County's 40 miles of coastline than anywhere in the world. Perhaps that's why Huntington Beach, nicknamed "Surf City," annually hosts a number of surfing contests including the U.S. Open and Gotcha Pro. Almost as popular is beach volleyball. Check the two-man games out around Main Beach in Laguna or between 32nd and 44th Streets in Newport.
And let's not forget the many magnificent golf courses, from Pelican Hill Golf Club, one of the premier public golf clubs in the nation, to new courses like Aliso Viejo Golf Club. In all, there are some 30 golf courses in the County open to the public, comprising Southern California's Golf Coast.