The County of Orange, Center of Southern California clearly illustrates the Southern California lifestyle. A beautiful coffee table visual monograph which displays the beauty, depth, and diversity of the County of Orange as never before. There are 462 gorgeous photographs from more than 60 top commercial photographers. 100 pages worth. But there is also a fascinating text by David Lansing, travel author and writer for Sunset, National Geographic, and the Times of Orange County. And unique maps of the County and its position as the Center of Southern California. And vital statistics. And a guide to county parks and beaches. And a list of recommended destinations. And visitor information resources. And high-quality, state-of-the-art printing.
Below are excerpts of the text for your reading pleasure.
Chapter 1
Where We Come From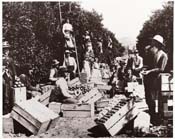 They say babies come in two styles: Winston Churchill or Mao Tse-tung. Which is to say that all babies look pretty much alike. They're wrinkled, they're chunky, and they squint. It's not until later that we become individuals, develop a sense of style. We keep a stogie in our hand at all times. We wear a homburg hat. We shave our head.
Cities are the same. The better ones--London, Paris, San Francisco--have a style all their own, a true sense of place. Some cities have personalities so large they can swallow us up. When the writer Joan Didion moved from her beloved California to New York City, she hung a map of Sacramento County on her bedroom wall to remind her on a daily basis who she was, where she came from. As if she might become one of "them" if she wasn't careful.
So what to make of the County of Orange? How deep do the roots go and who are the people who live here? Does everyone really wear Hawaiian shirts to work and are they as conservative as the media oftentimes suggests? More importantly, why do people choose to live here?
Here's the thing: the County of Orange defies generalizations. Oh, you can try. You can get a glimpse of a south county neighborhood where hundreds of homes are so uniformly homogenous you wonder how the residents are able to distinguish their front door from their neighbor's. But then you amble around the historic French Park neighborhood of Santa Ana, with its lovely turn-of-the-century homes, or see the restored Victorian homes around Old Towne Orange and think, "Well, this can't be the County of Orange...can it?"
It can and it is.
Yes, there are miles of some of the prettiest beaches in the world and even more miles of congested freeways, but there are also dense woodlands of old oaks, ocher-colored sandstone canyons rich in fossils, and quiet country roads where farmers still sell baskets of just-picked strawberries or jars of homemade honey. There are glittering glass cathedrals and a crumbling adobe mission; the world's most famous amusement park and little known natural waterfalls; astonishing restaurants serving artichoke ragout and sidewalk carts offering spears of papaya or cups of watermelon.
The County of Orange's greatest strength is its astonishing diversity. It's what both delights and befuddles newcomers, for just when you think you have it figured out, that you know what these 782 square miles are all about, you stumble across a vision of Southern California that is nothing like what you imagined, whether it be the bustling community of Little Saigon, home to the largest concentration of Vietnamese Americans in the United States, or rustic Silverado Canyon where stagecoach service ran over a hundred years ago between there and Los Angeles.
To truly understand the County of Orange you need to know two things: It's young and it's highly impressionable. It has been shaped by men as diverse as Jose Antonio Yorba, a member of the Portola expedition of 1769, who came back to hilly chaparral land he'd traveled through and established the first rancho in the area, and C.J. Segerstrom, a dairy farmer from Sweden, whose heirs eventually developed some of the most lucrative commercial property in the world, including South Coast Plaza.
Though the old Swede and Spanish-born Yorba would seem to have little in common, they both understood that with vision and hard work, you could make this land into anything you wanted. You still can. That's what Walter Knott did when he began farming berries in Buena Park in 1927. That's what Walt Disney did in 1955 when he saw something more than orange trees in Anaheim. People have always come to the County of Orange because it is a land largely unencumbered by the past. It has always been a place to look to the future rather than to bygone days.
Two of the most important additions to the County of Orange appeared almost simultaneously, for good reason, in 1955. Five years earlier, construction had begun on a futuristic motorway, originally called the Santa Ana Parkway, that would link the center of the region directly to Los Angeles via an unobstructed river of concrete. It was the coming of the Santa Ana freeway that would eventually determine the location of an equally futuristic amusement park that would forever change the county. In 1953, Walt Disney hired the Stanford Research Institute in Palo Alto to determine the best location for a new theme park. They recommended a 160-acre orange grove in Anaheim, conveniently located next to the proposed Santa Ana Freeway. While construction of the freeway pushed south, development of the happiest place on earth went on at its own feverish pace. The freeway and the park were completed almost at the same time, and in July 1955, some 28,000 guests passed through the gates of the Magic Kingdom. Two months later, Disneyland had already welcomed its one-millionth visitor.
Growth in the County of Orange was now at a record level. Once the first freeway into the County was complete, about 50,000 new residents moved here every year for the next three decades. In 1952, there had been barely a dozen cities in the County; in the next ten years, that number would almost double. The population boom of the late '50s and '60s brought about a number of other important developments in the County, from the construction of the University of California, Irvine campus in 1965, to the dedication of a County airport in 1967.
As the County of Orange turns the corner on another century, it faces a host of challenges and new opportunities. The diversity that has always been the county's greatest strength will continue to fuel economic growth that is expanding more rapidly than almost any other community in the nation.
The day that Walt Disney cut the ribbon opening up the Magic Kingdom, he noted that the park would "never be completed as long as there is imagination left in the world."
The same could be said for the future of the County of Orange.
Chapter 4
Beaches, Our Playground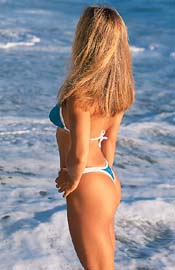 There is an undeniable connection between the ocean and the County's lifestyle. Perhaps it's because life is said to have risen up out of a salty sea or because the human body is seventy percent water. Whatever the reason, visitors and residents alike are constantly drawn to the ocean--to play, to create, to meditate, to envision--here in the County of Orange. Our 42 miles of coastline offer up spectacular views and a wide spectrum of entertainment that all translate into a certain lifestyle that you can hear in the music, see in the fashion, and taste in the food.
If you prefer to bring all your beach toys with you--boogie boards, fins, beach chairs, volleyballs--head father south to Bolsa Chica State Beach, where parking is a breeze, thanks to the 2,500 parking spaces next to the clean wide beach, or down to Huntington Beach where its professional surfing events and youthful lifestyle make its moniker as Surf City U.S.A. well earned.
The Costa Mesa Freeway spills into Newport Beach at its southern terminal, explaining one of the reasons why this stretch of coast gets particularly busy in the summer. The sand courts at the end of 42nd Street are great for casual two-person volleyball games, and the surf between 32nd and 44th Streets is popular for body surfing.
"Big Corona," in Corona del Mar, is the perfect family spot, with mild waves for young swimmers, while "Little Corona", a few blocks south, is a favorite tidepool spot. The many small, rugged coves north of Laguna Beach make for great snorkeling and scuba diving, while the grassy parkland along the city's Main Beach is the perfect spot to watch a pro volleyball match or a pick-up game of basketball. Farther south, Salt Creek Beach Park, just below the awesome Ritz-Carlton, Laguna Niguel resort, is one of the best swimming beaches in the county.
The most popular beach campground in all of California can be found at Doheny State Beach, south of the Dana Point Harbor. San Clemente and San Onofre have a greater assortment of surfing spots--for both experts and beginners--than anywhere in the world. But the best way to find your favorite County of Orange beach is to just drive along the coast until you find a spot that looks appealing to you. Then unpack the car, dip your toe in the water, and let the alchemy begin.
Chapter 5
Wondrous Attractions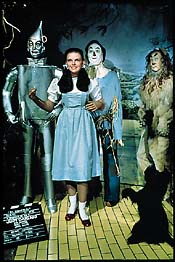 Disneyland is the First Wonder of the Modern World, an astonishing Babylon of entertainment where crickets talk, bears play piano, and a mouse named Mickey holds forth as ruler of the Magic Kingdom. As Disneyland turns the corner on the 20th century and begins to eye its 50th anniversary, California's number one attraction is, in many ways, being reborn as a host of new rides and hotels, including a new themed land dedicated to the Golden State, which will open soon
Nearby, in Buena Park, is Knott's Berry Farm. Like its bigger brother, Knott's is also looking to the future as its new parent company, Cedar Fair, opens up several new rides in the park, beginning with Ghostrider, the tallest and longest wooden rollercoaster in the West. Almost within the coaster's shadow is Movieland Wax Museum, with wax stars like John Wayne, a county resident, and Kevin Costner who played baseball at Cal State Fullerton.
But there is more to Anaheim and Buena Park than theme parks. Almost within the shadow of Disneyland's Matterhorn is Edison Field, formerly called The Big 'A', where the California Angels have been thrilling baseball fans since 1966. Also nearby is Arrowhead Pond, home to the Mighty Ducks hockey team. When the Ducks aren't at home, the Pond is also a popular venue for rock concerts, ice shows, and the John Wooden basketball tournament.
Just south of Anaheim, in Garden Grove, is another wonder of the modern world, the 12-story glass and steel Crystal Cathedral, known for its Easter and Christmas pageants. Not far from South Coast Plaza, in Costa Mesa, is the Caesar's Palace-like compound of the Trinity Broadcasting Network, and further down the freeway, at Mission San Juan Capistrano, is the Old Stone Church, built in the shape of a Latin cross with seven domes, where the swallows still come home to roost in March. Dana Point celebrates the return of the gray leviathans with the Festival of the Whales in March, while in April you can watch the spectacular start of the Newport-Ensenada sailboat race from the beaches around Corona del Mar and Newport.
Summer in the County of Orange means it's time for the annual Festival of Arts/Pageant of the Masters in Laguna Beach, as well as the Sawdust Festival and Art-A-Fair which showcase quality art pieces by over 150 nationally juried artists. Summer also means time for a number of major surfing competitions along the coast including the U.S. Open in Huntington Beach. Anaheim celebrates its German heritage during Oktoberfest, mid-September through October, while Huntington Harbour, Dana Point, and Newport Beach light up the night with their festive boat parades in December.
Chapter 6
The Magic of Art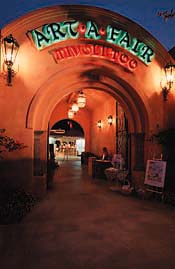 Like Jack and the Beanstalk, magic sprouted from a handful of legumes when the Orange County Performing Arts Center rose up out of a bean field in Costa Mesa in 1986. The $65 million jewel in the County's cultural crown was seeded with generous donations in both land and cash by the Segerstrom family.
In addition to being home to the Pacific Symphony Orchestra, Opera Pacific, and the Philharmonic Society, the 3,000-seat center has also hosted a number of touring Broadway production and international dance and opera troupes. Plans for a second, smaller concert hall, the Segerstrom Center for the Performing Arts, are currently under way.
Nearby is the Tony Award-winning South Coast Repertory, considered one of the finest regional theaters in the country. Spilling across South Coast Plaza are a number of outdoor art installations, like the world-famous 1.6 acre outdoor sculpture garden created by Isamu Noguchi, titled the "California Scenario," as well as major pieces of work by artists like Alexander Calder, Joan Miro, and Jean Dubuffet. Excellent theatre can also be found at the Laguna Playhouse, Alternative Repertory Theatre in Santa Ana, and the Vanguard Theatre in Fullerton.
Reflecting the County's rich and diverse cultural mix, the Irvine Barclay Theatre offers an eclectic mix of world music and contemporary dance and serves as the home to the county's largest dance company, Ballet Pacifica.
But this is only a taste of arts in the County of Orange. To see the whole menu you'd have to travel to the Bowers Museum of Cultural Art in Santa Ana, with its acclaimed art collection of indigenous peoples and fine California paintings, to the Orange County Museum of Art in Newport Center with its premiere collection of visual arts from California Impressionists to provocative contemporary art. Laguna Beach, home to the Festival of Arts & Pageant of the Masters in the summer, draws lovers of California art to the Laguna Art Museum year round, while contemporary artists can be seen practicing their art at the Artists Village, centered around the historic Santora Arts Complex in downtown Santa Ana.
And this would be only the start. You would still need to make time to visit the Newport Harbor Nautical Museum, housed in a sternwheeler on the bay in Newport Beach, and the Richard Nixon Presidential Library & Birthplace in Yorba Linda, so you can tour the farmhouse where America's 37th President was born.
For children, there's the Children's Museum of La Habra, Santa Ana's Discovery Museum of Orange County, with its restored Victorian buildings, and the County's most recent addition, the Discovery Science Center, also in Santa Ana, with over 100 hands-on exhibits. And don't forget the International Surfing Museum in Huntington Beach!
Chapter 8
Getting Physical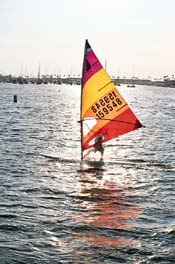 There's no historical record of James Irvine Jr. having visited New York City's Central Park, but one can't help but imagine that its stature as the most splendid urban park of its time had something to do with his decision in 1897 to donate a 160-acre oak grove to the County of Orange, thus making it the first regional park in all of California. Back then, families would travel by horseback and buckboard to picnic beneath the oaks or play a little stickball.
A visit to Irvine Park today, which recently celebrated its 100th anniversary, shows how both the park and recreational activities in the County of Orange have expanded. You can still go horseback riding and play a little baseball, but you'll also find trails for mountain bikers and hikers and a lake for fishing or boating.
Great weather and ideal recreational facilities make the county an outdoor enthusiast's dream. The Pacific Ocean fronts the County, opening up a world of water activities from deep-sea fishing out of Dana Point to kayaking along million-dollar homes in Huntington and Newport harbors. There are no less than six piers in the County, open to fishermen, diners, marine enthusiasts, and strollers.
Inland, there are hundreds of miles of hiking trails, including the new "mountains to sea" Arroyo Trabuco Trail which runs for 15 miles from the boundary of Cleveland National Forest to the ocean. All in all, the County of Orange has over 30,000 acres of spectacular parkland where you can fish, hike, bike, run, swim, camp, or experience a number of other activities. If that's not enough, you can sail to Catalina, rollerblade along the beach boardwalk, or try your hand at skimboarding, a sport that was invented in the County.
Though surfing wasn't invented here you'll probably find more advocates of the sport, both young and old, along the County's 40 miles of coastline than anywhere in the world. Perhaps that's why Huntington Beach, nicknamed "Surf City," annually hosts a number of surfing contests including the U.S. Open and Gotcha Pro. Almost as popular is beach volleyball. Check the two-man games out around Main Beach in Laguna or between 32nd and 44th Streets in Newport.
And let's not forget the many magnificent golf courses, from Pelican Hill Golf Club, one of the premier public golf clubs in the nation, to new courses like Aliso Viejo Golf Club. In all, there are some 30 golf courses in the County open to the public, comprising Southern California's Golf Coast.
Chapter 9
World-Class Shopping, Dining and Entertainment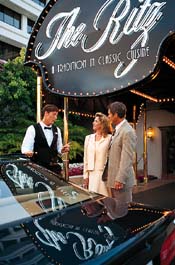 The king of retail in the County of Orange remains South Coast Plaza with its sister complex South Coast Village. This is one of the premier shopping centers of the world, ranking among the top metropolitan markets in every retail category measured--from bejeweled watches to Italian suits.
Over 270 of the world's most prestigious retailers-- Hermes, Jil Sander, Prada, Fendi, Chanel, Gucci, Mikimoto, and Christian Dior, to name just a few--are interspersed throughout this shopping mecca which was created and developed by the Segerstrom family in 1967 on what had been bean fields. There are also over two dozen great restaurants in the South Coast Metro district including the much-lauded Gustaf Anders, Troquet, Joachim Splichal's Pinot Provence, Wolfgang Puck Café, and Antonello Ristorante.
Just down the street from South Coast Plaza is The Lab Anti-Mall where you can get a henna tattoo or one of the finest Cuban meals in the southland. Overlooking the California coastline is Fashion Island in Newport Beach, the most successful open-air shopping center in the country, with over 200 shops, restaurants, and department stores including Bloomingdale's and Neiman Marcus. The Shops at Mission Viejo recently had itŐs Grand Re-Opening to debut an upscale, casually elegant shopping experience for the fast-growing south County.
The Irvine Spectrum Center and The Block at Orange are relative newcomers to the scene, but both have added a number of unique retail and entertainment options to the County of Orange scene. The Irvine Spectrum features the Edward's 21-screen theater complex, one of the largest in Southern California, and a six and a half story, stadium-style IMAX theater, plus fascinating dining emporiums like Dave and Buster's, where in addition to feasting on St. Louis-style pork ribs, you can enjoy a number of interactive electronic games at The Million Dollar Midway. The Block at Orange opened late in 1998 with Vans Skate Park, the largest such facility in the world, Ron Jon Surf Shop, the largest surf shop in California, and more than 100 other restaurants and shops.
But not all of the County's unique shopping and dining experiences will be found at these mega-malls. Old Towne Orange is known as "the antique capital of California" with more than three dozen stores filled with collectibles spread out around a '50s-style downtown plaza. Little Saigon, in Westminster, shows the County's diversity with a mind-boggling array of Vietnamese restaurants, bakeries, delis, and shops.
Scattered throughout the County are such unique eateries as Newport's Speedway Racing Bistro, a motorsport-themed restaurant, the Comedy Mystery Dinner Theater in Cypress, as well as Wild Bill's Wild West Dinner Exravaganza and Medieval Times Dinner and Tournament, both in Buena Park, where your meal comes with jousting matches or saloon dancers.
[Include file=footer.inc]